I've always wanted to make a pilgrimage to SGD Coffee in Quezon City. I finally had my chance when an old, dear friend, who only wishes to be identified as cuportwo @ IG, agreed to meet up with me there, for a full-blown coffee adventure.
It turns out, it wasn't just a coffee adventure for us – it was a food adventure, too!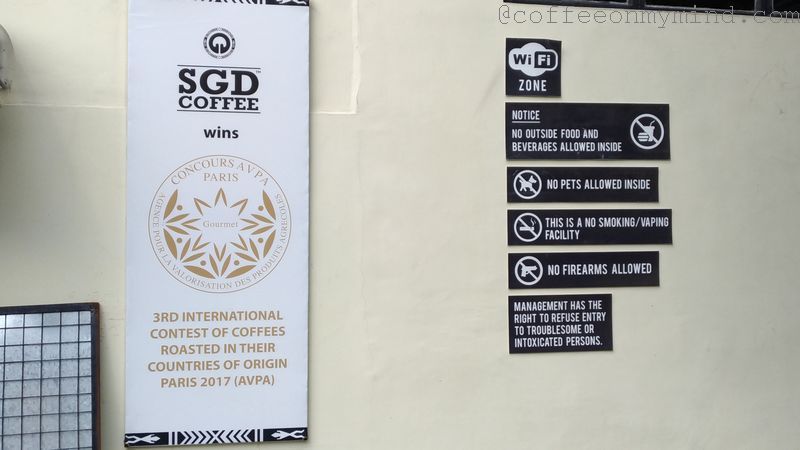 Ms. Yvette Tan of Spot.ph has already done an excellent writeup on SGD Coffee, so I'm just going to help spread the word about that. Please read it, because it's a really great article, comprehensively detailing SGD Coffee's mission and vision for Philippine coffee – Sagada coffee, in particular.
For now, I'm just going to share my own experience and photos from my visit.
The cafe posed a bit of a challenge for us to find, because our Uber driver dropped us off at what seemed like a purely residential area. There didn't seem to be any business establishments around. However, the graffiti pictured above caught our eye, so we inspected the area around it.
We looked up, and sure enough, there was a sign declaring the presence of the "SGD Coffee Bodega" and the "Coffee Science Center." We must be in the right place!
A bit more looking, and we finally found the secret entrance! Just kidding, it wasn't really secret. The door WAS hidden behind a bunch of tall plants, though.
The steps leading up to the cafe, also behind the plants, are home-y and inviting. It felt like we were just going up to visit friends at their house.
The interior of the cafe was spacious, cool and serene. The place was full of patrons when we got in, and many of the patrons were hunched over their laptops or paper notes, concentrating quietly on their work.
They had a Minions motif going on, perhaps in time for Halloween. Though the place was calm and quiet, the decor made it cheery.
Halloween buntings hung over the barista counter.
There were more seats at the second floor, and they were all filled up when we got there.
Stairs leading up to the second floor.
The door to the Coffee Science Center. It appears to be closed off to cafe patrons.
A tribute to Goad Sibayan of Bana's Coffee in Sagada. I understand that the founder of SGD Coffee is a good friend of Mr. Sibayan, and they are both Philippine coffee pioneers. I hope to write more about Mr. Sibayan soon.
Friend and I couldn't wait to try out the SGD Black. I liked it a lot, but I realized halfway through my drink that I was craving something stronger. Maybe I should have gone for the Espresso instead?
REALLY good Lemon bar. Reminded me of the lemon pie in Sagada. The half-plate design is novel, but a bit messy, as the crumbs kept falling off it (or maybe my friend and I were just messy eaters?).
The dessert case, with prices for the signature drinks displayed behind the counter.
Oatmeal orange cookies.
Revel bars.
Etag carbonara – my other reason for being excited to come to SGD Coffee. I am a huge fan of etag – traditionally cured and smoked meat. It was the first time for my friend to try it, and she was blown away by how flavorful it was.
Chicken tocino with red rice, part of their all-day breakfast menu.
Affogato. Highly recommended. The coffee flavor goes so well with the ice cream! Photo borrowed from cuportwo @ IG.
Pure Sagada arabica beans for sale, at P600 per 250-gram bag.
I want to take a moment to talk about their bathroom, which I found unique and quirky. The hardwood door handle is shaped like this, so it sort of feels like you're taking the hand of a concierge as you're closing the bathroom door behind you.
The mirror has a lovely wooden frame around it, too. I think the wood is locally sourced, and the carving made by local artisans.
Coffee grounds work great as a deodorant…
…but there also appears to be an aromatherapy diffuser beneath the sink with coffee grounds on it, if extra deodorizing powers are needed.
I'm always fascinated by how coffee grounds are recycled, and from what I've seen, SGD Coffee does it cleverly. They also use it as part of their decor at every table.
SGD Coffee
Operating Hours: (8 AM to 11 PM, 7 AM to 11 PM on weekends)
No. 45 Maalalahanin St., Teachers Village East, Diliman
Quezon City, Philippines
Tel: 0917 826 9537
Facebook: https://www.facebook.com/pg/SGD.Coffee/
Signing off with a recommendation: if you're looking for authentic Sagada coffee and food, drop by SGD Coffee in Teacher's Village. You definitely won't be disappointed.