Sorry for not posting for a long time – I am trying to get back in the swing of things now! I'll be honest, I was inspired to write for the blog this time around by the appearance of a new coffee place at my favorite mall, SM Marilao. Hence, I break my hiatus with a Koko Kofi review.
Koko Kofi at SM Marilao distinguishes itself from the other locally-based coffee places in the mall by not being a mere stall, but a full-service open-air cafe. It's set up at a cozy central location, right under the first staircase to the right (if you're coming from the main entrance of SM Marilao).
They're at that sweet spot just between Watsons and Classic Savory. With such high visibility, is it any wonder that a Koko Kofi review would crop up?
And you can't miss the shop, because it's spacious: there's plenty of room to sit. You can enjoy people-watching with your squad from their comfy chairs.
Their coffees are affordable at P59 a "Teddy" (16 oz) and P69 a "Grizzly" (22 oz). I've so far gotten around to trying these drinks:
1. Dark Mocha. While not the biggest fan of chocolate (such a travesty, I know!), there are times when I find myself craving the sophisticated flavor of dark chocolate. So I tried this first, and boy am I glad I did! The chocolate flavor is rich without overshadowing the coffee flavor.
2. Java Chip. I tend to be picky with "basic" mixed drinks. In fact, I have this belief that if I don't like a shop's signature "basic" drink, like the Java chip is for many coffee places, I probably won't like the other flavors. But since I liked their Dark Mocha, I dived right in with my favorable impressions in tow.
…I thought it was a bit too sugary for me, but it really wasn't bad. It made me think, however, that Dark Mocha would stay my favorite flavor for the long haul. At least I thought that way, until I tried…
3. Kreamy Kapuccino. I REALLY like this. It has just the right balance of milkiness and coffee, and has just a hint of sugar, so that it strays from oversweet.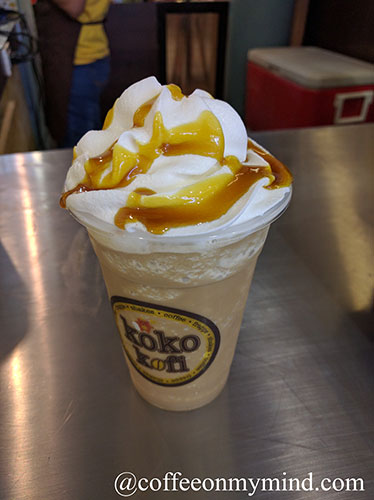 4. Hazelnut. This one is really too sugary for me. It sort of overpowers the hazelnut flavor some.

Notice the typo on the sign?
If your sweet tooth isn't satisfied with their blended drinks, they also sell fancy signature shakes, such as the one pictured above. They also sell sweet snacks, like brownies, cake, and waffles.
If you're in the mood for something hot instead, they also offer hot coffee at the very attractive price of P35 a cup. I think I'll try this soon.
Here's a fun twist: their coffees are barako-based! Talk about having a uniquely Pinoy flavor! It's rare for barako coffee to be used in flavored drinks, as it naturally comes with a bitter, earthy flavor…but Koko Kofi makes it work.
To wrap up: I still prefer Foss Coffee's Java Chip over Koko Kofi's, but I was quite impressed with the latter's chocolatier flavors, specifically: Dark Mocha and Kreamy Kapuccino.
Try their blends for yourself! I would love to read your Koko Kofi review! You can drop by their stall on the ground floor of SM Marilao, or browse through their official Facebook page for their other locations and new offerings.