Check out our social media, or share this post:
I've been noticing Coffee Tonya in Makati for a while now, but I had the leisure to drop by only recently.
It's quite noticeable, as Coffee Tonya in Makati is right beside the Makati City Hall, and there's a huge coffee cup statue in the front, to catch the attention of passers-by.
With a name like "Coffee Tonya," you would think that it was a Filipino-owned company. It's not! This is the first branch of this franchise in the Philippines – it actually already has 13 branches in its home country of Japan!
Don't believe me? Check out their official Japanese-language page.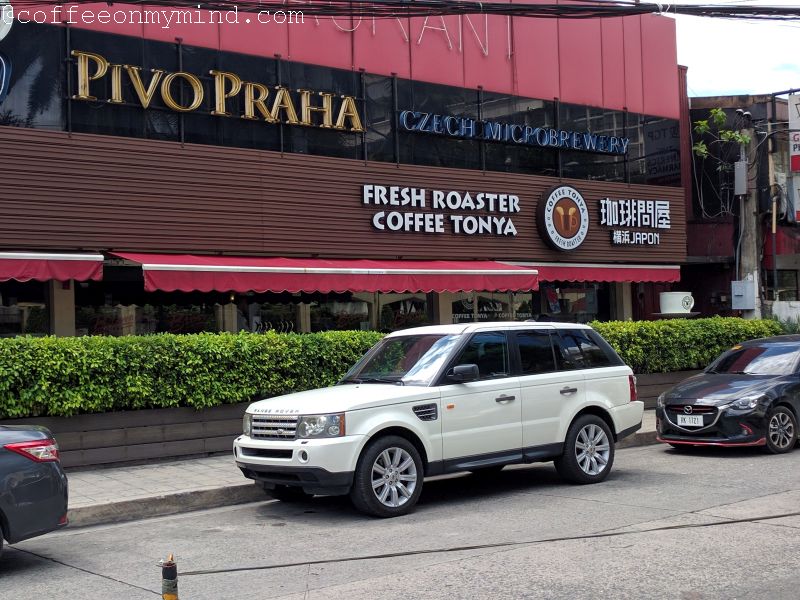 The owner and manager is a Japanese national, and a friend of the restaurateur behind Uniquease (pronounced "yu-ni-ka-se"). You can see flyers for Uniquease in his shop. And for Japanese food enthusiasts, this particular restaurant is only a short walk from the Makati City Hall and Coffee Tonya.
This has nothing to do with coffee, but I hope you guys will check out Uniquease also. It's on my to-visit list, because I saw it featured on the NHK documentary "Serving Up a Second Chance". It helps underprivileged Filipino youths, so enjoy a great Japanese meal for charity!
Back to Coffee Tonya: this place has already been noticed by some dedicated coffee enthusiasts (such as Ken Martin Canuto of #KenCansBaristAdventures!) but I believe it needs more attention.
Why? Because it has a STAGGERING collection of coffee beans from all over the world!
I admit the cost per 100 grams is sort of pricey…but there are some beans here that are difficult to find locally. If you want small samplers of different and rare beans, this is definitely your stop!
The "coffee of the day" that I tried while I was there was the Peruvian coffee (P120). I was told it had a "mild flavor", so I was delighted to find that it lived up to my expectations.
I shouldn't forget to mention: all coffee served in Coffee Tonya is FRESHLY ROASTED AND GROUND. No long-stocked coffee for these folks! It takes a little more time than your usual Starbucks barista would to prepare your cup, but freshness and fullness of flavor is assured.
I'll have to drop by next time for their home brew, i.e. americano or espresso. I can't wait to try it!
They also have a formidable selection of local coffees. I was only able to take a photo of their southern sources, but there are coffees from the northern areas (e.g. Kalinga, Batangas), too!
What else makes this a great stop for coffee-lovers? The GEAR.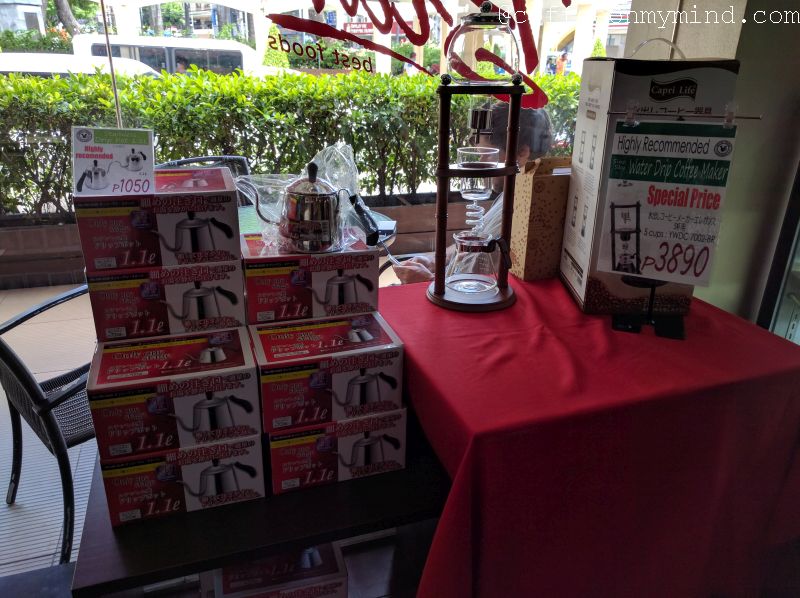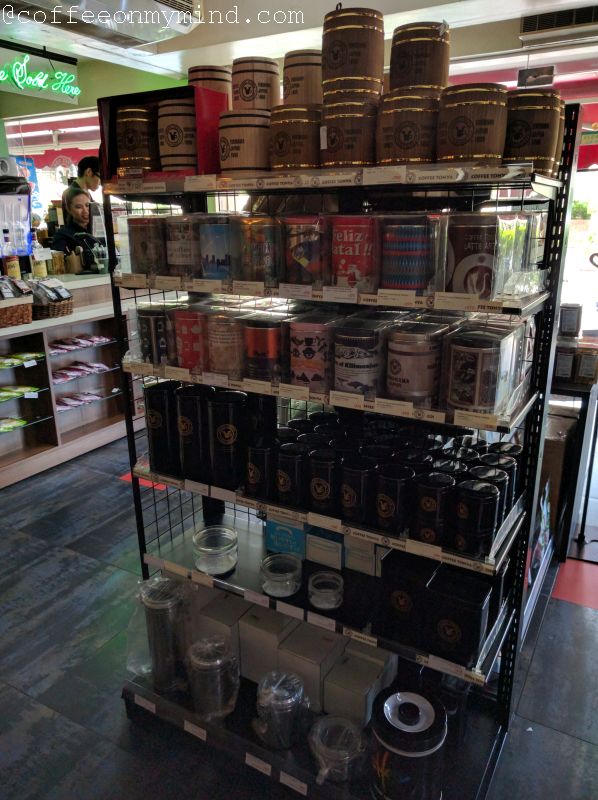 JUST LOOK at all these beauties! You'd be hard pressed to find affordable coffee equipment for the home brewer, all in one place.
I've inquired about home roasters, and they say they sometimes stock a Korean brand home roaster (Gene Cafe brand, if I remember correctly), but it gets snapped up quickly. I think I'll be coming back for that!
They also have teas and tea brewing equipment, for tea-lovers! It was explained to me that Japanese people are more tea-lovers than coffee-lovers, so having a "tea" section is just reasonable.
Plus Japanese sweets! These are two different flavors of konnyaku jellies. They also have small jars of Japanese candies which are sure to treat your sweet tooth well.
If pastries are what you're after, they also have a limited selection of breads and cakes, but you could also try the pastries offered by the cafe located near the shop (Grappa's).
Coffee Tonya
1231 Angono Street, Makati City (just beside Makati City Hall)
(02) 750-6200
Opens Monday to Saturday, 10:00AM – 7:00PM
If you want to drop them a line or be in the know about their latest offerings, check out their official Facebook page.
Coffee Tonya in Makati City is a treasure trove for hard-to-find beans and home brewing equipment. I can't honestly say the wares are cheap, but the people manning their first branch in the Philippines are accommodating and friendly…and best of all, they sure know their coffee!